Looking For Invisalign In Southampton? Here's Everything You Need To Know
31st May 2023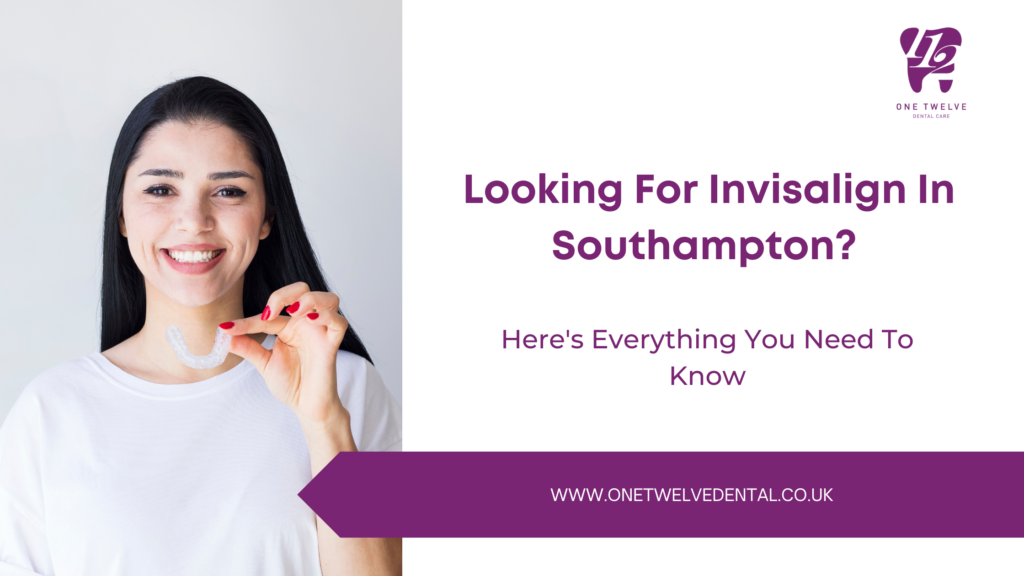 If you or a loved one has crooked or misaligned teeth that affect their personality, smile, and self-confidence, the best treatment option is orthodontic treatment. However, if you search the internet for currently available orthodontic treatment options, you will find several options, which often become challenging for orthodontic patients.
But if you are looking for the most reliable, convenient, and aesthetically pleasing treatment option, you should consider Invisalign aligners. If you have been avoiding your treatment because you don't want to wear uncomfortable and conspicuous metal braces, Invisalign removable aligners are your best option.
But what is Invisalign aligner treatment, and how do I find the best dentist Invisalign dentist? You may ask! Don't worry; we have got you covered! This blog will help you understand Invisalign therapy and choose the best dentist in town. So, read on!
What Should I Look For In An Invisalign Dentist?
Many dentists offer Invisalign treatment in Southampton, but how does one find the best among them? Here are a few tips. 
First and foremost, you should check the experience and qualifications of the dentist you are considering. Ideally, the dentist should have obtained additional experience and qualifications in managing orthodontic problems.
Next, you should shortlist a few practices with these dentists and check the internet for their online reviews. You may also ask your neighbours, colleagues, or friends for advice.
Finally, you should visit the shortlisted practices and check the available facilities. An ideal orthodontic practice should offer all the required services under one roof. You should go with a practice that offers flexible payment options, has a gentle-dental team, and provides all the required services in-house. 
What Is Invisalign Dental Treatment?
Invisalign is an orthodontic system for straightening crooked or misaligned teeth and improving overall facial aesthetics. Unlike braces that remain fixed to the teeth, Invisalign uses a series of numbered, removable aligners for treatment. You will begin the treatment by wearing the first set of aligners for about two weeks. Afterwards, you should switch to the next set of numbered aligners. This way, each aligner set will gradually realign your teeth and bring you closer to your dream smile. 
Do Dentists Prefer Invisalign Or Braces?
Many dentists provide treatment with both braces and Invisalign aligners. However, braces treatment is more common among general dentists as it is simpler. On the other hand, specialist orthodontists usually treat patients with Invisalign as it requires more experience and training.
Is The Invisalign Orthodontic Treatment Effective?
Many people are sceptical about Invisalign treatment; they feel that removable aligners cannot fix tooth alignment issues. However, this is not the case. Invisalign aligners have been proven to treat virtually all orthodontic problems. However, unlike braces, treatment with Invisalign aligners also depends on patient compliance and the dentist's skill. So, if you want your Invisalign treatment to be effective, you should consider the following:
Visit an experienced and qualified dentist in your area
Follow your dentist's instructions carefully
What Are The Advantages Of Invisalign?
Invisalign clear aligners offer many advantages over traditional braces. These are:
Superior aesthetics
Superior comfort and convenience than braces
Ability to eat all your favourite foods
Easier to maintain optimal oral hygiene than braces
Shorter treatment duration (in some cases)
How Much Does Invisalign Cost?
The cost of Invisalign aligners in Southampton depends on various factors. Most importantly, the cost varies according to the dentist's skill and experience. For example, a specialist, highly-qualified orthodontist will charge more than a general dental practitioner. Similarly, it also depends on the location; an orthodontic practice in an affluent area will be more expensive than one in a suburban area. Finally, treatment costs with Invisalign also depend on the patient's treatment needs. The more complex the procedure, the greater will be cost. Overall, the cost of Invisalign in Southampton varies between £2,000 to £5,500.
What Disadvantages Does Invisalign Pose?
While Invisalign has many advantages over metal braces, it also has drawbacks. These are:
Treatment is highly patient compliance-dependent. The treatment can be prolonged if the patient does not adhere to the dentist's instructions regarding using the aligners. Ideally, the aligners should be worn for at least 22 hours daily for best results.
Only some dentists are trained to provide Invisalign aligner treatment.
Complex orthodontic issues, such as bite and jaw alignment, cannot be treated with clear aligners. 
Invisalign aligners are not suitable for patients who frequently forget or break their aligners.
How Do You Know If You Are A Good Candidate For Invisalign?
Any individual who is concerned about their misaligned or crooked teeth is a candidate for Invisalign treatment. However, your orthodontist will perform a detailed clinical examination to assess your eligibility. They will also look at their X-ray images and digital tooth models to assess the severity of the underlying issue. After your dentist has diagnosed the underlying issue, they will suggest the most suitable option for your treatment. In some cases, dentists will offer multiple treatment options and help you choose the most suitable one depending on your treatment needs and budgetary limitations.
Are you looking for the best orthodontic practice in town? If yes, One Twelve Dental is your best option. We offer all specialised and general dental services at affordable rates under one roof. To learn more about orthodontic treatment with Invisalign aligners, please book an appointment today
We look forward to meeting you.
Back to Blog