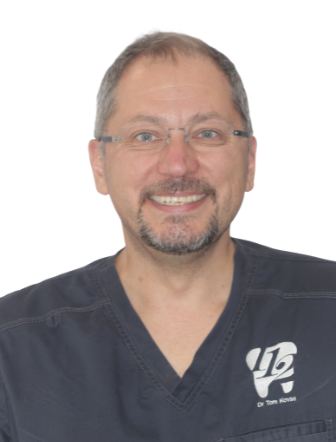 Dr Tom Kovas
Dentist
D Stom Vilnius, 2001
GDC Number. 84658
Tom is a highly experienced and qualified dentist who has worked within general practice for over 20 years.
Throughout his career, he has undertaken extensive postgraduate training to stay up to date with the latest advancements in dentistry. He provides a wide range of treatments including Dental Implants and adult orthodontics.
He has been an Honorary Clinical Teaching Fellow at the University of Portsmouth Dental Academy, tutoring final year undergraduate dental students from Kings College, London. He was also an Educational Supervisor. Tom thoughtfully mentored newly qualified dentists during their foundation training year at his large multidisciplinary dental practice in Portsmouth, where he had been the principal dentist and owner since 2010, very ably assisted by his wife, Binthiya.
Tom's ethos has always been to deliver a high standard of dental care for his patients and he is keen to keep abreast of any new developments within the dental field. Passionate about smile makeovers, restoring function after tooth wear and improving the look of your smile using new state of the art digital technology, Tom will ensure you receive the best treatment that is tailored specifically to your needs.
back to our team